Three Days in Miramichi, New Brunswick- West Jet Magazine
Go salmon fishing, canoeing and eat plenty of fresh seafood in this historic region.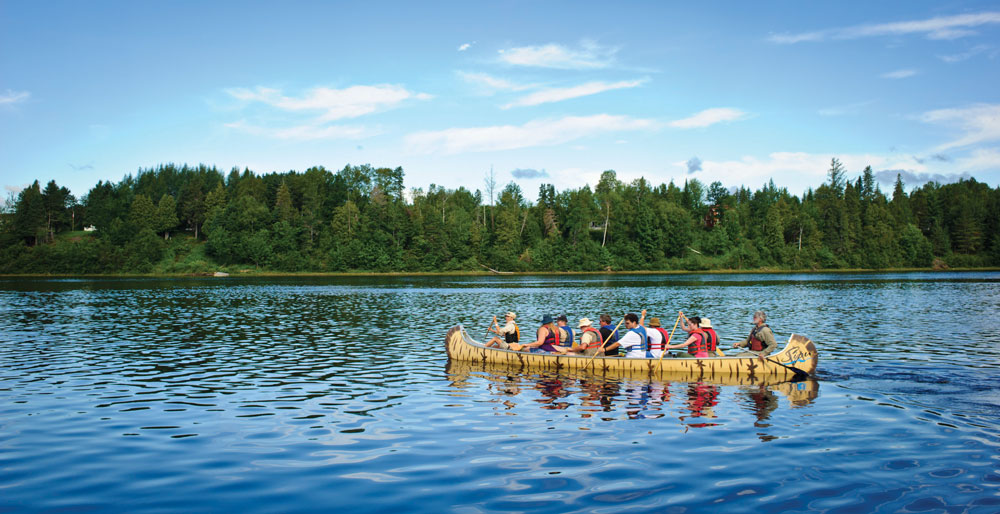 MAY 1, 2017 – BY MANDY SAVOIE
The Miramichi region in northern New Brunswick has thrived for 3,000 years. First Nations settlements preceded the Acadian communities established in the mid-1600s. Shipbuilding booms followed and world-class salmon fishing in the Miramichi River has remained constant. The river meanders 250 kilometres across the province through old-growth forests, ancient bedrock and dozens of villages. Located an hour and half  north of Moncton, the city of Miramichi is the perfect base to explore all that the region and the river have to offer.
Day 1
Morning: Start exploring Miramichi at Ritchie Wharf, a 19th-century shipbuilding dock. The boardwalk at the wharf is now lined with colourful cottage-style shops and a restaurant. Stop in at East Wind Gifts for barnboard sea-glass art (the glass is affixed to old barnboards).
Afternoon: From Beaubears Island Interpretive Centre, take a boat ride across the river to the island location of two National Historic Sites. Actors in period costume (shipbuilders, fur trappers, etc.) take visitors on a historic tour. In the 1700s, the island
was an Acadian refugee camp, and then a shipbuilding yard until the mid-19th century. Today, you can view an archaeological site where these ships were built.
Evening: At 1809 Restaurant & Bar in the Rodd Miramichi River hotel, feast on chef Jesse MacDonald's local fare, which includes lots of fresh seafood. From the dining room enjoy a view of the steel-arch Centennial Bridge while eating cedar-planked Atlantic salmon or confit duck croquettes.
Day 2
Morning: Start your day in McNamee, a riverside village southwest of Miramichi, beginning with a four-hour fly-fishing expedition at Wilson's Sporting Camps. Don waders (provided) and cast the river for salmon with guide Karl Wilson—his family has run the camp for 150 years—and learn how to land these huge silver fish.
Afternoon: Drive 10 minutes to nearby Doaktown to go on a stand-up paddleboarding excursion on the Miramichi River; Storeytown Cottages offers rentals and guided tours. Drift past low-level rapids, isolated islands and the famed angling river's deep salmon pools. You'll likely have this part of the river to yourself, save for bald eagles flying overhead and moose feeding at the water's edge.
Evening: Once you've worked up an appetite, sit down for a three- or four-course supper at The Ledges Inn. The timber-frame building, situated beside the river, offers a rotating daily menu of delightful creations such as chef Luc Schofield's fresh lobster served in an edible pastry lobster trap. The pouding chômeur, a Great Depression-era cake cooked in maple syrup, is equally delicious.
Day 3
Morning: Drive to Kouchibouguac National Park, a half-hour southeast of Miramichi, for a canoe trip with Voyageur Canoe Adventure. Paddle through the park's estuaries to view birds such as black-capped common terns and grey seals on barrier islands. You'll hear the strange howling noise these so-called loups marine ("marine wolves") make before you see them.
Afternoon: Learn about 3,000 years of Mi'kmaq history and admire centuries-old earthenware pottery at Metepenagiag Heritage Park, just outside Miramichi. You can learn to cook bannock, forage for ingredients to make teaberry and cedar tea, and taste wild-game meat while Mi'kmaq guides share local folklore.
Evening: Experience Maritime hospitality and Irish food at O'Donaghue's Irish Pub. Located in a recently renovated, centuries-old stone building in downtown Miramichi, the pub serves up Irish pasties and Guinness chocolate cake. On the patio, sip craft
beer on tap with the locals and soak up that famous East Coast hospitality.
Voyageur Canoe Adventure, photo by Brian G. Atkinson/Parks Canada
Events to attend this summer in Miramichi:
Professional Lumberjack Festival
Aug. 19 and 20
Watch lumberjacks and lumberjills compete in events such as axe-throwing and underhand chopping at the Central New Brunswick Woodmen's Museum in Boiestown, an hour and a half from Miramichi.
National Acadian Day
Aug. 15
Grab your pots and pans and head to downtown Miramichi to take part in Tintamarre, a noise-making parade. The free event celebrates Acadian culture with live music, traditional food such as fricot (chicken stew with dumplings) and activities for kids.
Getting there: WestJet flies to Moncton 12 times a week and to Fredericton three times a day from Toronto.