Could New Brunswick become the retirement capital of Canada?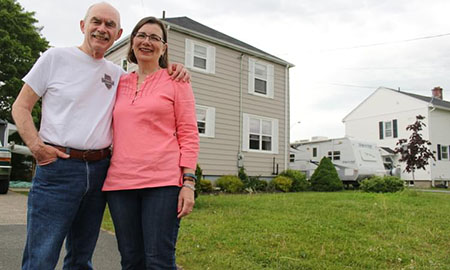 A steady market, a laid back life-style and an aging population.
An economist, a real-estate agent and a retirement community manager are in agreement: New Brunswick is becoming the ideal Canadian retirement destination.
Over the last 12 months, Trevor Drisdelle, a Fredericton realtor with Keller Williams Capital Realty, said they have seen a dramatic increase in the number of retirees moving from the Toronto, Ottawa and London markets. It's not just Ontario either, he said – they're getting calls from across the country.
As of April, the Canadian Real Estate Association lists New Brunswick as having the lowest average price per house in Canada. The average sale price of a New Brunswick house was $173,410, up close to $5,000 from last year, but nowhere near the national average of $559,317.
"For that $500,000-$700,000 that they probably sold their house for out west, they can come here and do whatever was in their dreams," said Drisdelle.
"Their dollar's going to go a lot further here."
That's the question Deborah and Larry Kearney found themselves asking when they started approaching retirement in Kingston, Ont.
"What would help us stretch our dollars?" asked Deborah Kearney. "We briefly thought of simply selling our house and moving somewhere else in Ontario. But we just thought that the quality of life for the price we had to pay didn't make a lot of economic sense," she said.
That's when they found out about New Brunswick.
For Kearney, the combination of price and quality of life couldn't be beaten. She said she and her husband pay less for their house in Miramichi than the price of an one-bedroom apartment in Toronto.
And developers in New Brunswick are noticing, according to one economist.
The province's recent recognition as the oldest population in Canada has led to a change in the types of housing developments being built this year, said Fred Bergman, senior policy analyst at the Atlantic Provinces Economic Council.
"You're going to get changes in the type of housing being demanded because of that aging population," said Bergman. "So you could end up with a greater demand for multiple housing."
The amount of housing starts in New Brunswick, which are housing projects that have already started construction, are up 94 per cent in the first quarter of 2017 in comparison to last year, he said. Moncton apartment and condo start-ups alone account for over half of that growth.
"The demographics can lead to housing starts. As people age they will sell their single-detached home and move into a different type of housing," said Bergman. "Maybe it is managed by a landlord, a smaller house, or you're moving into a seniors' condo."
Penticton, B.C., was supposed to be a retirement haven for Moncton native Pauline Belzile. Instead, she had a tiny lot in a trailer park, high rent and bears walking across her front lawn. After two years, she'd finally had enough, she said. She packed her things and moved to Miramichi, where she's living in a house in Retirement Miramichi Inc., and doesn't have to worry about maintenance.
And it's $10 a month cheaper than her trailer in B.C.
"I could just get so much more here for less," she said. "I am on disability and they take care of all the maintenance. I've only been here for two weeks and I already love it."
Of the 263 units in Miramichi, 40 per cent of the residents are now from Ontario and 18 per cent are from the rest of the country, said marketing manager Tracy Fernandez.
She said the majority of their marketing efforts are geared to Ontario. They do national advertisements as well, she said, but the majority who contact them are from Ontario.
Toronto, in particular, has seen rapid growth over the past 20 years, but New Brunswick's market has remained relatively steady, said Kari McBride, chair of the government relations committee for the New Brunswick Real Estate Association.
"I don't think we are feeling as harsh effects as other markets," said McBride. "We are somewhat insulated in New Brunswick because we have had a slow, gradual rise in the values of our properties. We didn't have a bubble of prices."
Michael Edwards is a senior policy analyst at the Canada Mortgage and Housing Corporation, and part of his job is looking at potential scenarios that could affect Atlantic Canada. The Toronto and Vancouver markets are among the markets he is watching.
If those markets were to turn, he said, New Brunswick wouldn't be immune, but the impact would be minimal.
"Those would have a short-term, temporary impact here. There would be a pull-back temporarily, and then people would probably have more activity because they were holding off. "
McBride said there is another possible alternative for the New Brunswick market.
"We have always been and remain one of the least expensive provinces to buy housing in. So, it might make more people move here," she said.
The Kearneys didn't have to wait for their real-estate markets to fail. They wanted to start their new life right away, she said.
"Being able to stretch our financial ability here was much easier than in Ontario," she said. "We wanted to get out of the rat-race and the congestion. We wanted a kinder, gentler place."
After two years in New Brunswick, they haven't regretted their decision once, she said.
Credit: Robert Williams / Times & Transcript