GCC is closer to constructing a seniors co-operative housing complex

GCC is closer to constructing a seniors co-operative housing complex
MIRAMICHI, NB – Green Cove Co-operative (GCC) is one step closer to constructing a 70 unit seniors co-operative housing complex after executing an "Option to Purchase Agreement" with the City of Miramichi on Tuesday, May 30th , 2017, for 2.8 acres of property.
The property is located in Miramichi, NB, at the corner of Water and MacIntosh Streets overlooking the Miramichi River.  The property is less than 2 km from a shopping area and a groomed hiking trail is across the street to the north. Property on the north side of Water Street is a brown field, not suitable for residential development and the current owner has already agreed to provide river access to GCC.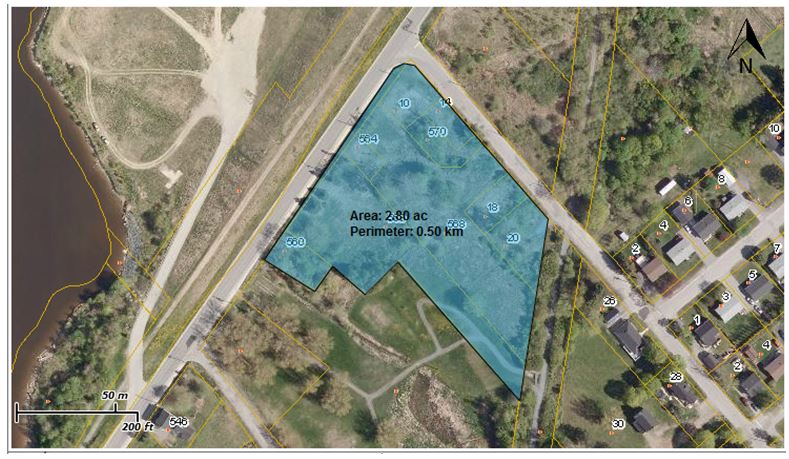 Not illustrated, but down river on the east side of MacIntosh Street, are two one-acre properties also included in the purchase.  This property will house a garage, work space for residents, and a community garden, as well as providing space for future expansion.
Upriver, to the west of the property, is England Hollow Park and GCC looks forward to working with the people in this area and the City to make the park even more enjoyable for all.
"We have been working on this project for over eight years. It is a tremendous relief to finally be able to work with our members to develop our plans and move quickly toward constructing our independent living facility," says Vernon Goodfellow, Chairman, Green Cove Co-operative.
"We are indebted to many people who have worked hard on our behalf to bring us to this point.  Miramichi River Environmental Assessment Committee, Retirement Miramichi and Miramichi Forward have generously given their support over many years.  Finally,  the City of Miramichi – especially Mayors Gerry Cormier and Adam Lordon – who have joined with their respective city councils to make the properties available to us," he added.
"The City of Miramichi is happy to support the Green Cove Co-operative initiative and to provide an option to the organization for the former NB Power properties. This project will be a huge asset for the city.  We wish the members of GCC every success in their efforts and hope to see their vision realized for the betterment of our seniors and the entire community," said Adam Lordon, Mayor of Miramichi.
Jack Hunter, a founding member of this initiative and  Honorary Vice-Chairman of Green Cove Co-operative, comments, "I am 88-years-old and cannot wait many more years for this facility.  It is wonderful to finally have the right to purchase this property.  Now people, come out and make it happen; and fast!"
GCC has engaged Spitfire Design of Moncton, NB, to do the concept drawings. GCC intends to hold a public presentation to provide details about the development in August-September and will have the architect's conceptual drawing available at that time.
GCC will also hold its Annual General Meeting on Friday, June 23rd, 2017, at Miramichi Curling Club, 2nd Floor, 21 Cove Road, Miramichi, NB, starting at 2 p.m. The general public is invited to attend. This meeting will bring those attending up to date on the progress that has been made and outline the steps involved in bringing this exciting project to completion.  Memberships will be available and cost $50.00.
Goodfellow is inviting others to "join the conversation by joining us."   For more information about the project contact  Melanie at (506) 778 8591 or mreac@nb.aibn.com,  or contact Vernon at (506) 625 6363 or  vern.goodfellow@gmail.com. You can also visit:  www.greencovecooperative.ca